Gaspard&Dancers is an inclusive and diverse dance company founded upon a shared passion for versatile movement that is physically inventive, emotionally dynamic, and inspiring to people of all ages and backgrounds. Through the creation of repertoire, performances, lecture demonstrations, workshops, short and long-term residencies within the North Carolina community and around the globe, our main purpose is to expand the perspectives and creative potential of all who see and share in our world.
Gaspard&Dancers was founded in 2009 by former Pilobolus dancer Gaspard Louis. The company produces an annual performance season at Duke University in Durham, NC and has recently been presented at the Michael Schimmel Center for the Arts in New York City, Cape Fear Stage in Wilmington, NC, Museum of Art in Raleigh, NC, Bermuda, and across North Carolina as part of the NC Dance Festival.
Gaspard Louis is the Founder and Artistic Director of Gaspard&Dancers (G&D). He received a BFA in Dance from Montclair State University and continued his dance studies on scholarship at Gus Giordano's in Chicago and Nikolais/Louis Dance Lab in New York. Following his studies, he joined the New York based company called AllNations where he performed traditional dances from many parts of the world for US troupes across the globe. Subsequently, he performed and traveled worldwide with Pilobolus Dance Theater. He collaborated on the choreography of nine major dance works with the company and taught master dance classes both nationally and internationally. Gaspard received an MFA in Dance from the Hollins University/American Dance Festival Program and became the Director of ADF's year-round creative movement outreach program which provides free dance classes to youth in the Raleigh-Durham-Chapel Hill community of North Carolina. His passion for dance has continued to lead him to work with local dancers and musicians. Additionally, Gaspard has been a guest teacher at Duke, Elon, and North Carolina Central Universities.
Marsha Guirlande Pierre (Bronx, New York) is a Haitian-American freelance artist who began her dance training at Knecht Dance Academy (Levittown, Pennsylvania) under the direction of Elise Knecht. From Montclair State University, she graduated with a Bachelors in Fine Arts in Dance Performance in May 2019. Throughout college, Ms. Pierre has performed works by Camille A. Brown, Bill T. Jones, Daniel Shapiro and Joanie Smith, and Alwin Nikolais. Outside of Montclair State repertory she has performed professional works with Earl Mosley's Diversity of Dance, The Nathaniel Hunt Project, VOID: a female memory, Padierna Dance Project and The Lab by SGalberth. Since graduating, Ms. Pierre has worked with Gaspard & Dancers as well as Maxine Steinmein & Dancers. She joined Limón Dance Company as an apprentice during their 2019-2020 season. Ms. Pierre also interned for Sidra Bell Dance New York, and is a member of ARTS by the People, a non-profit organization where she coordinated educational art programs for groups ranging from after school programs to senior living activities. Early 2021, she debuted as a lead dancer for the music video "If you care" by the artist Q. Ms. Pierre is pleased and excited to join G&D this season. 
AJ Guevara (He/Him) is a performer, teaching artist, and choreographer hailing from California's Central Coast. He earned his BFA in Dance & Choreography from Virginia Commonwealth University, with additional training from the Accademia dell' Arte (Italy) and American Dance Festival as a scholarship recipient. He has had the privilege of performing the works of Jennifer Archibald, Bill T. Jones, Robert J Priore, Jodi Melnick, Rachel Erdos, Jamal Abrams, Joshua L. Peugh, Arthur Pita, and Thomas Noone, among others. His work with Company|E, in partnership with the US State Department, has allowed him to serve as an Artistic Diplomat for Cultural Exchange in Israel, Cuba, Dubai, the United Kingdom, Palestine, as well as multiple engagements at the John F. Kennedy Center for the Performing Arts. AJ's advocacy work with GIBNEY, ETD Outreach, AXIS Dance Company, and Local Motion Project, strives to create equitable spaces, healing through movement and bringing awareness to disability within the arts. This work has allowed him to share with communities in The Netherlands, Switzerland, Mexico and domestic engagements across the US. AJ is grateful to be returning for another season with Gaspard & Dancers!
Daeyana Moss (Bronx, NY) was born and raised in New York City. She graduated with a BFA from the Conservatory of Dance at SUNY Purchase in 2021 under the direction of Nelly Van Bommel. Prior to attending Purchase, she graduated from Fiorello H. LaGuardia High School of Music & Art and Performing Arts in Manhattan where she received the Father Fame award.  While attending both Purchase and Laguardia she has been given the opportunity to perform works by Alvin Ailey, Janis Brenner, Joseph Hernandez, Cassandra Phifer, Annie Rigney, José Limón, Lajamartin, Anna Sokolow and Doug Varone. In 2021 she later joined Doug Varone and Dancers and had the opportunity to join them for their 2022 Joyce Season and is now in her second season with the company. Daeyana is very excited to be joining G&D!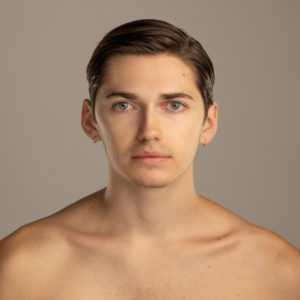 Connor Freeman, from Santa Clarita, California, grew up in his mother's dance studio. In 2023, he graduated from The Juilliard School with a Bachelor of Fine Arts in dance. Connor previously attended the Los Angeles County High School for the Arts. He has performed works by Ohad Naharin, Hofesh Shechter, Jiří Kylían, José Límon, Tricia Brown, Sonya Tayeh, Spenser Therberg, and Jermaine Spivey, among others. Connor is an avid choreographer and was selected to create for Juilliard's Choreographers and Composers 2021. Upon graduating, he was awarded the Juilliard Career Advancement Fellowship for his artistic merit and leadership. Connor is also a certified yoga teacher, specializing in yoga philosophy and meditation. He has traveled with Creative Borders to Gaborone, Botswana, leading workshops for people of all ages and backgrounds. He is thrilled to join Gaspard&Dancers this season.
Khalid Dunton was born and raised in Washington DC/Maryland. In 2020, Dunton completed his Bachelor's of Fine Arts in Dance as well as a Minor in Business from Montclair State University. Dunton has performed with dance companies such as Axelrod Contemporary Ballet Theater(2021), McKoy Dance Project(2022), and Carolyn Dorfman Dance(2021-2023). During 2021, Dunton worked as a professional dancer in the iconic Black Iris Project which received a New York Emmy Award for WILD: Bird of Paradise. Dunton has had the privilege of performing works by Martha Graham, Stacey Tookey, Juel D. Lane, Bill T. Jones, Carolyn Dorfman, Danial Shapiro and Joanie Smith, Maxine Steinman, Christian Von Howard, Earl Mosley, and many more. Dunton has performed in numerous spaces such as the Joyce Theater, Alexander Kasser Theater, Bryant Park, New Jersey Performing Arts Center (NJPAC), UTC Fine Arts Center and more. Showcasing his diversity, Dunton had the opportunity to work with celebrity artist Todrick Hall, featured as a dancer in his music video WIG. Dunton has trained and worked in the commercial dance industry alongside Dana Foglia, James Alonzo, and Yanis Marshall. 
Evan Lee Wilkins is a North Carolina Native that now calls NYC Home. He is a Graduate of The University of North Carolina School of the Arts High-school program. And is a recent Graduate of Marymount Manhattan College's BFA program. While attending university he had the opportunity to perform works by José Limón, Martha Graham, Paul Taylor, Ming Yang, Larry Keigwin, And Michale Mao. Evan is excited about returning to G&D for another season.
Lauren Aureus earned her BFA in Dance from Marymount Manhattan College with a double concentration in Modern and Ballet. She has performed works by David Parsons, Cameron McKinney, Christian Von Howard, Dwight Rhoden, Mary Ann Lamb, and Katie Langan. She has trained with Complexions Contemporary Ballet, FLOCK, Sidra Bell, Sol Leon, and Paul Lightfoot. Originally from the Bay Area, CA, Lauren is excited to be joining G&D!
Riley Rienert is a freelance artist, choreographer, and teacher born and raised in Hooksett, New Hampshire. She began her dance training at her mother's studio, New Hampshire School of Ballet. In 2023, Riley earned her BFA in Dance Performance and Choreography from Montclair State University, graduating summa cum laude. She has had the privilege of performing works by Ohad Naharin, Stefanie Batten Bland, Paul Taylor, Urban Bush Women, Roderick George, TweetBoogie, Brice Mousset, and many others. She has performed at New Jersey Performing Arts Center (NJPAC) with K&M Dance Collective, she's also co-curated her own summer intensive with her sister for the past five years. Riley is beyond thrilled to start her first season with G&D.
CHAIR
     Steven Silverleaf
VICE CHAIR
     Katherine Aarnott-Maheu
TREASURER
     Natalie Dunn
SECRETARY
     Wendy Vankleeck
MEMBERS
     Robin Gallant
     Art Waber
     Linda Wishart
     Tanika Martin
     Anne-Lyne McCalla
FOUNDER & ARTISTIC DIRECTOR
     Gaspard Louis

Jodee Nimerichter
Jim Finch
David Liu